To our valued clients:
West Wind Veterinary Hospital continues to operate under normal business hours for dogs, cats and horses while also offering 24/7 emergency care for horses as per usual.
We are now pleased to be able to offer virtual visits. Please contact us at 780-662-0112 to book your telemedicine consult today.
In the face of COVID-19, various levels of government are considering a mandatory shutdown of all "non-essential" services. The CVMA holds that veterinary practices provide "essential" services to Canadians. Additionally, there is currently no evidence to suggest this virus is circulating or being spread by animals in Canada. As such, for the foreseeable future WWVH will continue to service our patients. However, we will be adding extra precautionary measure to promote both the safety of our clients and our staff.
These include:
Enforcing strict social distancing in-clinic and on farm calls. Clients will be asked to remain in their vehicles in the parking lot. A staff member will come to meet you at your vehicle to collect your pet/horse for their appointment or to bring you out pet food and prescriptions. Farm calls will be executed by direction of the attending veterinarian.
If clients are to attend the appointment, it will be limited to one person in the exam room. Additional owners can join the appointment via FaceTime or speakerphone.
If you have an upcoming appointment and are experiencing a fever, cough, difficulty breathing, or have travelled or been in contact with individuals who have travelled outside of Canada, we request that for everyone's safety you contact our team to reschedule your appointment. If the appointment is urgent, we can discuss with you how best to proceed.
Extra sanitization protocols are in place at the clinic. Hand sanitizer stations located at the front desk must be used upon entry and exit of the clinic.
As the situation continues to evolve, we will be constantly reassessing and adapting our processes to adhere to the latest updates and health guidelines. If you have any questions and/or concerns, please call us at (780)662-0112 or email office@westwindvet.com.
We appreciate your cooperation.
Sincerely,
West Wind Veterinary Hospital

Our Technicians
Chelsea Eales, RVT, BSc
Chelsea graduated with her Animal Health Technology diploma from NAIT in 2011, and more recently a Bachelor of Science from MacEwan in 2019. She has also been certified in Equine Massage Therapy for a number of years, and loves being able to offer those skills to our patients as part of a veterinary treatment plan. Chelsea has always had a strong interest in equine medicine, and particularly enjoys the equine emergency and critical care aspect of her job, as well as equine anesthesia. In her free time, she can be found with her Quarter Horse mare "Poko", running, snowboarding, and spending time with family and friends.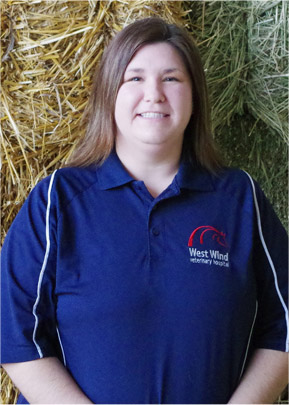 Jen Ludorf, AHT
Jen joined us as a technician student in February 2014. After graduating from NAIT's Animal Health Technology program with honours in the spring of 2015, she completed her practicum at West Wind Veterinary Hospital and has stayed as a full time technician. She has embraced all aspects of being a technician and greatly enjoys working on all animals; particularly horses, dogs, and cats. Jen enjoys spending time with her husband, John, and children, Allison and Dale. She makes a point to share her love and knowledge of animals with her children, nieces, and nephews. As a pet owner herself of a dog, two horses, and five cats she knows the importance animals can be in everyday life. Jen feels fortunate to have a career that encompasses her passion for animals and medicine daily.
Heather Stolz, RVT
Heather graduated from the Lakeland College Animal Health Technology program in 2004. She has been with West Wind Veterinary Hospital for over 13 years now. Since being raised on a grain/cattle farm, Heather enjoys interacting with clients and hearing how their pets or herds are doing. Outside of work, Heather can be found spending time with her family by camping in the summer or sledding in the winter.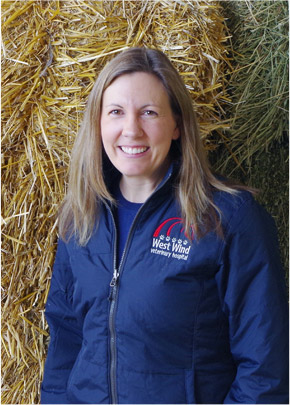 Katy Tutt RVT, BA, MAC
A native of the United States by way of Florida and Las Vegas (to name a couple), Katy began life in Canada as a restorer of paintings. She quickly found her calling in the animal world, graduating from tech school in 2009 where she earned the Benson Medical Award for Proficiency in Surgery and Anaesthesia. In her free time, she enjoys her two daughters and her husband.