To our valued clients:
West Wind Veterinary Hospital continues to operate under normal business hours for dogs, cats and horses while also offering 24/7 emergency care for horses as per usual.
We are now pleased to be able to offer virtual visits. Please contact us at 780-662-0112 to book your telemedicine consult today.
In the face of COVID-19, various levels of government are considering a mandatory shutdown of all "non-essential" services. The CVMA holds that veterinary practices provide "essential" services to Canadians. Additionally, there is currently no evidence to suggest this virus is circulating or being spread by animals in Canada. As such, for the foreseeable future WWVH will continue to service our patients. However, we will be adding extra precautionary measure to promote both the safety of our clients and our staff.
These include:
Enforcing strict social distancing in-clinic and on farm calls. Clients will be asked to remain in their vehicles in the parking lot. A staff member will come to meet you at your vehicle to collect your pet/horse for their appointment or to bring you out pet food and prescriptions. Farm calls will be executed by direction of the attending veterinarian.
If clients are to attend the appointment, it will be limited to one person in the exam room. Additional owners can join the appointment via FaceTime or speakerphone.
If you have an upcoming appointment and are experiencing a fever, cough, difficulty breathing, or have travelled or been in contact with individuals who have travelled outside of Canada, we request that for everyone's safety you contact our team to reschedule your appointment. If the appointment is urgent, we can discuss with you how best to proceed.
Extra sanitization protocols are in place at the clinic. Hand sanitizer stations located at the front desk must be used upon entry and exit of the clinic.
As the situation continues to evolve, we will be constantly reassessing and adapting our processes to adhere to the latest updates and health guidelines. If you have any questions and/or concerns, please call us at (780)662-0112 or email office@westwindvet.com.
We appreciate your cooperation.
Sincerely,
West Wind Veterinary Hospital

Our Staff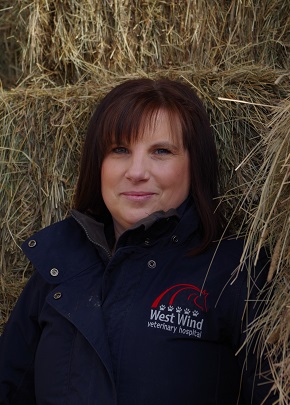 Krista McKinney
Krista McKinney is the office manager at West Wind Veterinary Hospital. Krista has worked in equine veterinary clinics for 10 years. Her passion for horses started when she was a little girl riding hunter jumper horses. Krista keeps busy heading to rodeos on the weekends with her family. Krista and her husband Darcy have two children, Colton and Raylee, and live on a farm just outside of New Sarepta.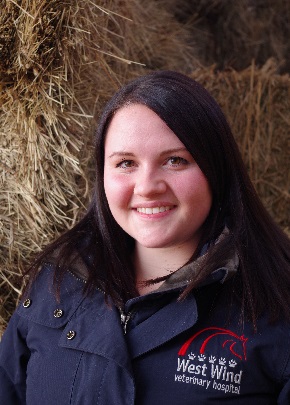 Jordyn Dowhaniuk
Jordyn completed her schooling at Olds College in both the VTA and the VMR programs in 2015. After gaining some experience in a strictly small animal clinic, she joined West Wind as a receptionist in the spring of 2016. Her love of animals, both large and small, makes every day at work an interesting and enjoyable one. In her spare time, Jordyn can be found with her husband - Dalton, her family, friends, three dogs - Ramses, Starsky, and Eli, and her horse - Lottie.
Sheila Mills
Sheila Mills joined the West Wind team as a part time receptionist in 2016. She is proud to be part of such an amazing team of people and is enjoying learning all that goes into running a busy and growing vet clinic. Sheila has loved all animals since she was a little girl and fondly remembers her mom telling her that when she grew up she could have as many as she wanted. She took that to heart and now lives on a small farm in South Cooking Lake with her husband. They have goats, horses, donkeys, 2 dogs and several cats. Sheila and her husband especially enjoy spending time with their 4 grandchildren.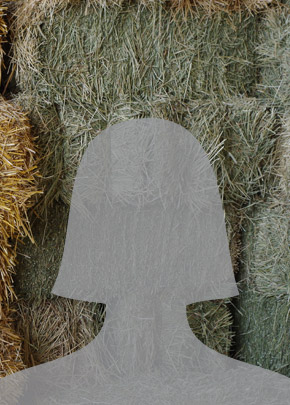 Delaney Rankin
"Dee" joined the West Wind team in the spring of 2019 as a receptionist. After 5 years of working strictly in finances, Dee's love of animals ultimately brought her into veterinary medicine. In her spare time she can be found with her husband - Zach, their dog Joule, and her friends and family. Dee enjoys hunting, fishing, and all things outdoors.
Alana Balbar
Alana joined the West Wind team in the spring of 2016. She started working with the reproduction team in 2017 and has been running it since; she is in charge of day to day mare care, semen shipments, and our resident stallion handler. She loves being part of the fast-paced, growing practice and her love for animals keeps every day interesting. Alana started riding at the age of 3 and in her spare time, can be found with her boyfriend, spending time with her horses, and showing cattle.