Our Doctors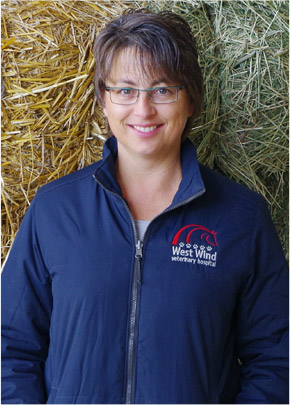 Deborah Carroll, DVM
Dr. Deborah Carroll graduated from Western College of Veterinary Medicine in 1991. She brings over 25 years of extensive experience in veterinary medicine to West Wind Veterinary Hospital with a particular interest in equine medicine including alternative modalities such as acupuncture. When not working, Deborah enjoys reading, riding and hockey, and is interested in expanding her knowledge in alternative medicine modalities.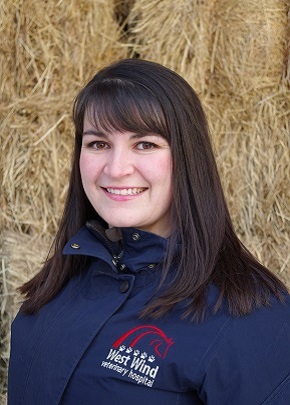 Amanda Evans, DVM
Dr. Amanda Evans practices small animal medicine with a special interest in wellness and internal medicine as well as palliative and geriatric care. Dr. Amanda Evans graduated from the Western College of Veterinary Medicine in 2009. She moved back to her hometown, Edmonton, and began working at a small animal practice. In 2011, Amanda was certified in veterinary medical acupuncture at Colorado State University. Amanda joined the West Wind team in December 2012. Amanda can be found both in the clinic and on the road with our small animal house call service providing medical, palliative, and end-of-life care for dogs and cats. Amanda enjoys camping, skiing, and spending time with her family.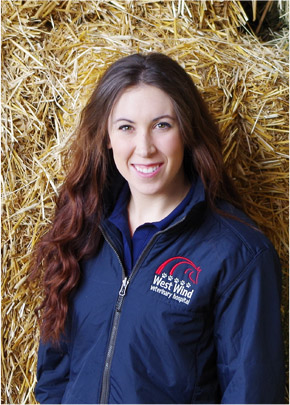 Hailey Flemming, BVSc
Dr. Hailey Flemming was born in Australia, but spent much of her childhood in Alberta where she rode as a competitive show jumper, competing at Spruce Meadows during the summer months. She began her schooling at the University of Alberta taking Zoology and Animal Science classes and then moved back to the Southern Hemisphere where she completed her veterinary degree as part of the class of 2014 at Massey University in New Zealand. During her time in New Zealand, Hailey completed a research project in equine diagnostic imaging, advancing her interests in equine sports medicine and lameness. Hailey moved home to join the team at WWVH in June of 2015. In her spare time, Hailey is an avid traveller and enjoys spending time riding, hiking, rock climbing, doing yoga and spending time with her boyfriend Keith and their dogs Buster and G.O.B..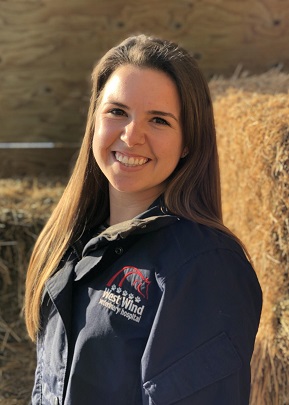 Melissa Smith, DVM
Dr. Melissa Smith is originally from Toronto where she grew up riding and competing on the Hunter-Jumper circuit. She went on to obtain a Bachelor of Science degree from the University of Guelph and a Doctor of Veterinary Medicine degree from the Ontario Veterinary College. Following graduation, Melissa completed a Post-Graduate Diploma as a large animal intern at the Atlantic Veterinary College in PEI with primary focus on equine medicine, surgery and reproduction. After a taste of the East Coast, she moved to Alberta to join WWVH in the summer of 2018. Melissa is interested in all aspects of equine ambulatory practice. Outside of work, Melissa looks forward to hiking in the mountains as well as spending time with her dog Cleo.
Deb Harrison-Steele, DVM
Dr. Deb Harrison-Steele grew up on Vancouver Island where she spent most of her childhood riding horses. She graduated from veterinary school in 1997, and in 2005 Deb started Equistar Veterinary Services. Deb has joined the West Wind team and will be bringing her years of experience and expertise in equine reproduction. Deb has a special interest in equine reproduction and over the past 11 years she has taken multiple advanced courses on embryo transfer, ultrasonography, mare infertility, and freezing semen. Always ensuring she is on the cutting edge, Deb has recently attended courses on embryo transfer and vitrification (embryo freezing), foaling, dystocias and neonatal care. In her spare time Deb trains and rides Cutting horses.
Alysson Macedo, Med. Vet
Alysson graduated in 2013 from Santa Catarina State University, in Brazil. He has a special interest in different aspects of pregnancy in domestic species and with embryo cryopreservation and transfer in cattle and pigs. In April 2017, he successfully defended a Master of Science thesis entitled "Conceptus-derived Firbinogen and its implicantion in equine pregnancy" from the University of Calgary. In his free time enjoys hiking, exploring the Canadian Rockies and playing volleyball.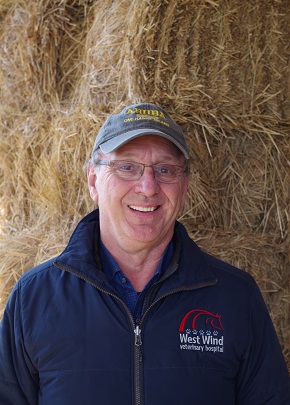 Jack Ingram, DVM
Dr. Jack Ingram graduated from the Western College of Veterinary Medicine at the University of Saskatchewan in 1973. With over 40 years of equine experience, Jack is a highly seasoned and knowledgeable veterinarian with a breadth of surgical and ambulatory experience. His current practice is predominantly ambulatory specializing in lameness of high performance horses of all disciplines. He resides on an acreage near Ardrossan. Jack enjoys golfing, skiing, travelling and sampling red wines of the world.