To our valued clients:
West Wind Veterinary Hospital continues to operate under normal business hours for dogs, cats and horses while also offering 24/7 emergency care for horses as per usual.
We are now pleased to be able to offer virtual visits. Please contact us at 780-662-0112 to book your telemedicine consult today.
In the face of COVID-19, various levels of government are considering a mandatory shutdown of all "non-essential" services. The CVMA holds that veterinary practices provide "essential" services to Canadians. Additionally, there is currently no evidence to suggest this virus is circulating or being spread by animals in Canada. As such, for the foreseeable future WWVH will continue to service our patients. However, we will be adding extra precautionary measure to promote both the safety of our clients and our staff.
These include:
Enforcing strict social distancing in-clinic and on farm calls. Clients will be asked to remain in their vehicles in the parking lot. A staff member will come to meet you at your vehicle to collect your pet/horse for their appointment or to bring you out pet food and prescriptions. Farm calls will be executed by direction of the attending veterinarian.
If clients are to attend the appointment, it will be limited to one person in the exam room. Additional owners can join the appointment via FaceTime or speakerphone.
If you have an upcoming appointment and are experiencing a fever, cough, difficulty breathing, or have travelled or been in contact with individuals who have travelled outside of Canada, we request that for everyone's safety you contact our team to reschedule your appointment. If the appointment is urgent, we can discuss with you how best to proceed.
Extra sanitization protocols are in place at the clinic. Hand sanitizer stations located at the front desk must be used upon entry and exit of the clinic.
As the situation continues to evolve, we will be constantly reassessing and adapting our processes to adhere to the latest updates and health guidelines. If you have any questions and/or concerns, please call us at (780)662-0112 or email office@westwindvet.com.
We appreciate your cooperation.
Sincerely,
West Wind Veterinary Hospital

Our Doctors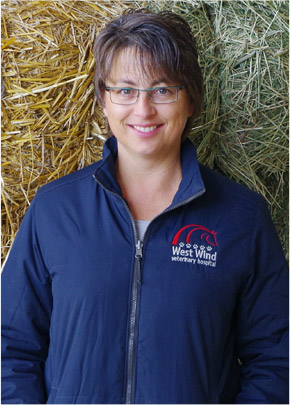 Deborah Carroll, DVM
Dr. Deborah Carroll graduated from Western College of Veterinary Medicine in 1991. She brings over 25 years of extensive experience in veterinary medicine to West Wind Veterinary Hospital with a particular interest in equine medicine including alternative modalities such as acupuncture. When not working, Deborah enjoys reading, riding and hockey, and is interested in expanding her knowledge in alternative medicine modalities.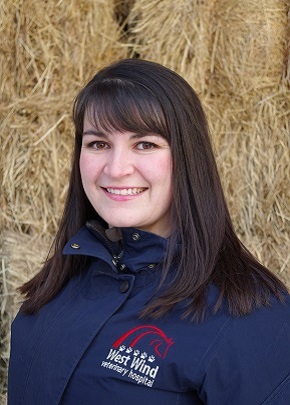 Amanda Evans, DVM
Dr. Amanda Evans is a small animal veterinarian with a special interest in wellness and internal medicine as well as palliative and geriatric care. Amanda graduated from the Western College of Veterinary Medicine in 2009 and moved back to her home town of Edmonton and began working at a small animal practice in Sherwood Park. In 2011, Amanda was certified in veterinary medical acupuncture at Colorado State University. Amanda joined the West Wind team in December 2012. Amanda is usually found in the clinic seeing wellness and medical appointments. She is working on expanding her medical skills into diagnostic ultrasound. Amanda enjoys camping, skiing, travel and spending time with her husband and two children. Amanda has two dogs named Frankie and Sophia and a cat named Joey.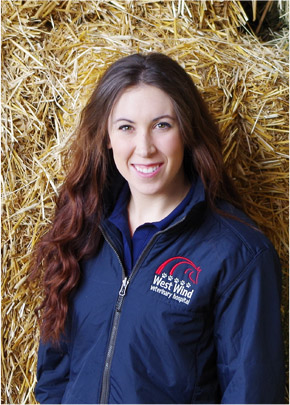 Hailey Flemming, BVSc
Dr. Hailey Flemming was born in Australia, but spent much of her childhood in Alberta where she rode as a competitive show jumper, competing at Spruce Meadows during the summer months. She began her schooling at the University of Alberta before moving back to the Southern Hemisphere where she completed her veterinary degree as part of the class of 2014 at Massey University. Hailey has been a part of the team at WWVH since 2015. Hailey's main areas of interest are in optimizing performance horse soundness and dentistry. When not working, Hailey is an avid traveler or can be found riding, hiking, rock climbing, or skiing with her partner Keith. Hailey currently has two rescue dogs, Buster and G.O.B. and a young Hanoverian, Quantum whom she's hoping to return to the show ring with in 2020.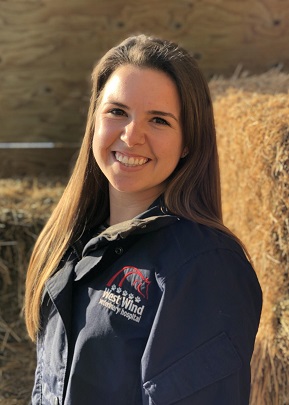 Melissa Smith, DVM
Dr. Melissa Smith is originally from Toronto where she grew up riding and competing on the Hunter-Jumper circuit. She went on to obtain a Bachelor of Science degree from the University of Guelph and a Doctor of Veterinary Medicine degree from the Ontario Veterinary College. Following graduation, Melissa completed a Post-Graduate Diploma as a large animal intern at the Atlantic Veterinary College in PEI with primary focus on equine medicine, surgery and reproduction. After a taste of the East Coast, she moved to Alberta to join WWVH in the summer of 2018. Melissa is interested in all aspects of equine ambulatory practice. Outside of work, Melissa enjoys spending time with her dog Aspen, hiking in the mountains, riding, and travelling.
Laura Perry, DVM
Dr. Laura Perry is from Cape Breton, Nova Scotia, where she grew up riding and competing reining horses. She obtained her Bachelor's of Science (Honours) at Cape Breton University. Her thesis research was performed at a local veterinary clinic and investigated otitis externa in dogs. She graduated with her DVM degree from the Atlantic Veterinary College at the University of Prince Edward Island. Dr. Perry loved PEI so much she stayed another year to complete a Post Graduate Diploma as a large animal intern at the AVC. Laura decided to venture west and joined the WWVH team in the summer of 2019. Laura enjoys internal medicine, lameness and working with the Standardbred Race horse industry. In her spare time, Laura enjoys riding her horse Cookie, pottery, paddle boarding and reading.
Alysson Macedo, Med. Vet
Alysson graduated in 2013 from Santa Catarina State University, in Brazil. He has a special interest in different aspects of pregnancy in domestic species and with embryo cryopreservation and transfer in cattle and pigs. In April 2017, he successfully defended a Master of Science thesis entitled "Conceptus-derived Firbinogen and its implicantion in equine pregnancy" from the University of Calgary. In his free time enjoys hiking, exploring the Canadian Rockies and playing volleyball.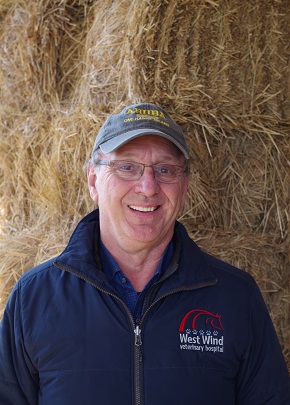 Jack Ingram, DVM
Dr. Jack Ingram graduated from the Western College of Veterinary Medicine at the University of Saskatchewan in 1973. With over 40 years of equine experience, Jack is a highly seasoned and knowledgeable veterinarian with a breadth of surgical and ambulatory experience. His current practice is predominantly ambulatory specializing in lameness of high performance horses of all disciplines. He resides on an acreage near Ardrossan. Jack enjoys golfing, skiing, travelling and sampling red wines of the world.