To our valued clients:
West Wind Veterinary Hospital continues to operate under normal business hours for dogs, cats and horses while also offering 24/7 emergency care for horses as per usual.
We are now pleased to be able to offer virtual visits. Please contact us at 780-662-0112 to book your telemedicine consult today.
In the face of COVID-19, various levels of government are considering a mandatory shutdown of all "non-essential" services. The CVMA holds that veterinary practices provide "essential" services to Canadians. Additionally, there is currently no evidence to suggest this virus is circulating or being spread by animals in Canada. As such, for the foreseeable future WWVH will continue to service our patients. However, we will be adding extra precautionary measure to promote both the safety of our clients and our staff.
These include:
Enforcing strict social distancing in-clinic and on farm calls. Clients will be asked to remain in their vehicles in the parking lot. A staff member will come to meet you at your vehicle to collect your pet/horse for their appointment or to bring you out pet food and prescriptions. Farm calls will be executed by direction of the attending veterinarian.
If clients are to attend the appointment, it will be limited to one person in the exam room. Additional owners can join the appointment via FaceTime or speakerphone.
If you have an upcoming appointment and are experiencing a fever, cough, difficulty breathing, or have travelled or been in contact with individuals who have travelled outside of Canada, we request that for everyone's safety you contact our team to reschedule your appointment. If the appointment is urgent, we can discuss with you how best to proceed.
Extra sanitization protocols are in place at the clinic. Hand sanitizer stations located at the front desk must be used upon entry and exit of the clinic.
As the situation continues to evolve, we will be constantly reassessing and adapting our processes to adhere to the latest updates and health guidelines. If you have any questions and/or concerns, please call us at (780)662-0112 or email office@westwindvet.com.
We appreciate your cooperation.
Sincerely,
West Wind Veterinary Hospital

Our Internship and Externship Programs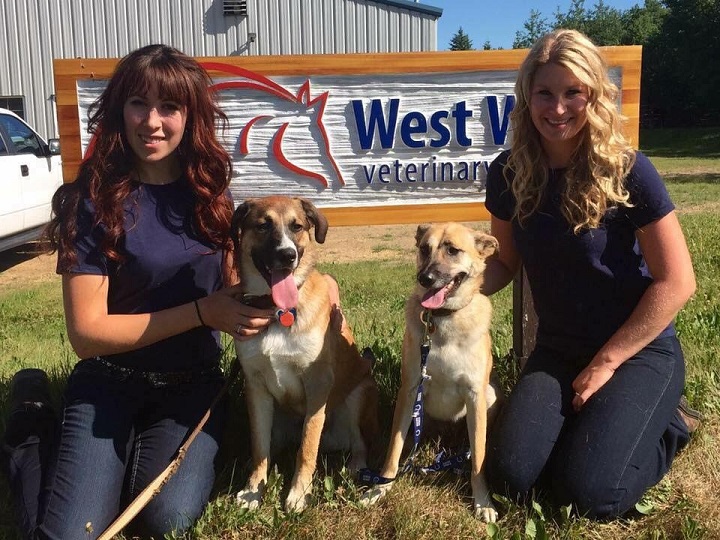 West Wind Veterinary Hospital is offering equine internship and externship positions. We do not offer small animal internships at this time. The internship/externship positions will provide broad exposure to ambulatory service, internal medicine, sports medicine and lameness, reproduction, critical care, anaesthesia, and surgery. Our case load consists primarily of ambulatory and in hospital equine medicine on performance and pleasure horses. Our referral practice provides both specialized in-hospital services, as well as general veterinary medical services on an ambulatory basis. Our staff includes 6 equine veterinarians and several locum equine surgeons.
Internship Opportunities
The goal of our internship program is to provide new veterinarians with an environment to gain experience, advance their veterinary skills, and provide the opportunity for interns to identify their goals and future career ambitions. Upon completion of the internship, it is our goal that the individual will have developed a solid practical skill level which will enable them to advance in private practice. Primary duties will include routine in-clinic patient care, assisting with daily appointments, ambulatory calls, anaesthesia, intensive care, emergencies, diagnostic imaging, surgical assistance, sports medicine, lameness evaluations, and reproductive services. Hospital rounds and topic rounds provide our interns with the opportunity to advance their knowledge base.
On-site living accommodations are provided for the interns. A fully stocked practice ambulatory vehicle will also be provided for emergency and field calls. More details of the internship can be found on the AAEP Avenues website. We encourage interns to stay with us for 12 months, but arrangements can be made for 6 month and 18 month internships.
Should you have any inquires regarding our internship program we encourage you to contact Dr. Deb Carroll at office@westwindvet.com or (780) 662-0112. We strongly encourage all potential interns to complete an externship at WWVH, or to plan a visit prior to applying. Prerequisites for application include a DVM or equivalent degree, letter of intent, CV or resume, and 3 letters of recommendation.
Externship Opportunities
The goal of our externship program is to provide veterinary students with an environment to gain experience in a busy equine referral practice while they identify their goals and future career ambitions. Externs will assist with daily in-house appointments, ambulatory calls, surgeries, treatments and after hours emergencies. We encourage externs to stay with us for 2-4 weeks, but arrangements can be made for shorter or longer stays depending on circumstances. On site accommodations are available for externs.
Should you have any inquires regarding our externship program we encourage you to contact Krista McKinney at office@westwindvet.com or (780) 662-0112. All applicants must submit a CV and a letter of intent prior to their final acceptance for a position.